By 2050, there will be more plastic floating around in the sea than fish, with about a truck's worth of waste dumped into our waters every minute.
This was the shocking and disturbing figure released in a report put together by the Ellen McAuthur Foundation and World Economic Forum in 2016. Activists and environmentalists have been aware of the plastic problem for years now, but the announcement served as a wake up call for those who have been living in denial. Already the report has helped push for bans on single-use plastic items around the world, inspired industry leaders to adopt cleaner production strategies and has released a tidal wave of social media movements pushing fiercely for humanity to break free from our addiction to plastic.
July 1st marked the beginning of a one such annual campaign: #PlasticFreeJuly is a month-long challenge to stay away from single-use plastic items such as straws, cutlerly and take away containers.
As a zero waste blogger in Toronto, I find the biggest barrier preventing people from participating in such campaigns (or taking the plunge to go zero waste year-round) is one of the following:
They don't know where to begin

They think avoiding waste is going to be too difficult
So, in honour of #PlasticFreeJuly, I've boiled down the first step towards breaking free from plastic into one simple step: assembling and carrying a Zero Waste Kit.
How To Create A Zero Waste Kit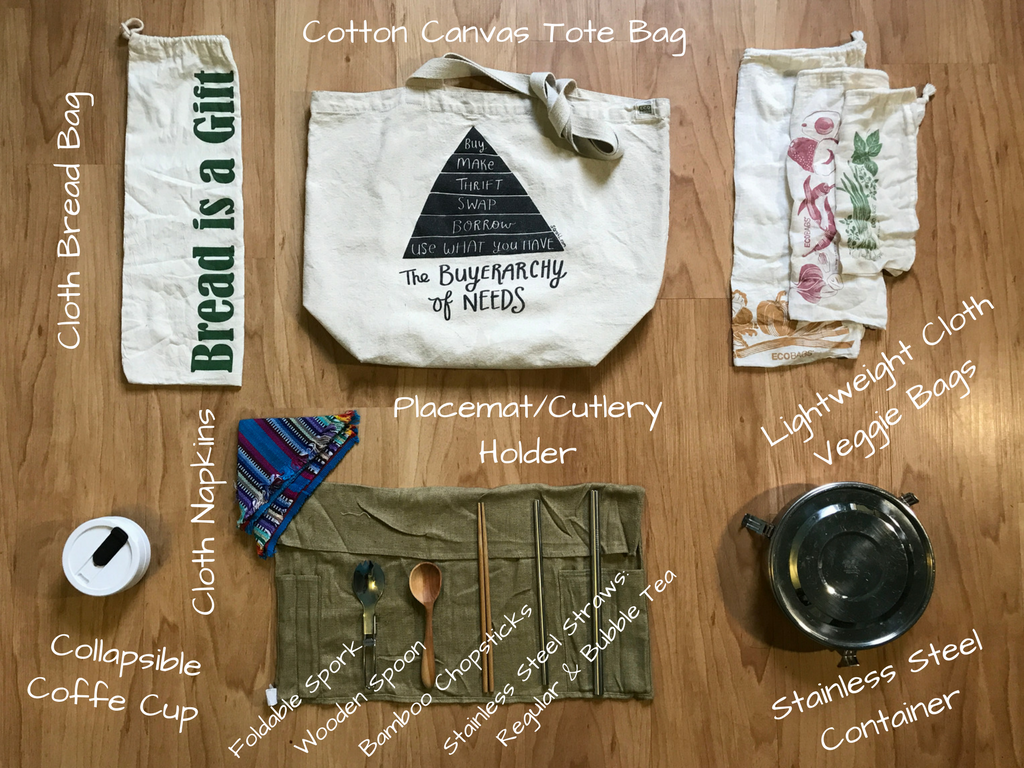 A zero waste kit is made up of all the things you carry with you on a regular, day-to-day basis. You incorporate these items into your daily routine so as to always be prepared for the coffee on the go, the spontaneous decision for takeout or picking up veggies on your way home from work. Here's what's in my Zero Waste Kit:
All of these items pack down easily and fit into my black leather tote bag that I carry with me everywhere. I never leave the house without these items. Scroll through to take a closer look:
As you assemble and begin using your Zero Waste Kit, you will discover things that need to be added. For instance, I have noticed that I need to incorporate a couple of smaller containers for when I get takeout that includes little items like spring rolls and sauces. I also want to add a collapsible water bottle. Assembling and using a Zero Waste Kit is a personal endeavour and will reflect your particular lifestyle.
While dedicating yourself to using a Zero Waste Kit is not going to solve the plastic crisis we're facing, it does serve two fundamental purposes: it will make you more conscious of our consumption practices in the West and will spark important conversations about refusing single-use items.
Who knew that whipping out a cloth bread bag in the bakery and insisting your bread be put in it without a plastic bag could be such a jaw-dropping experience for some people?! But that is indeed what tends to happen - whether I'm getting takeout in my stainless steel container, picking up bread with my cloth bread bag or pulling up my collapsible coffee cup at the counter, people ask me questions about what I'm up to. And I very happily explain to them that I am trying to stay away from single-use items - especially plastic - because our culture of convenience is filling up our landfills at an alarming rate and suffocating our oceans.
The truth of the matter is that most people feel powerless to spark change. Carrying a Zero Waste Kit becomes a series of teachable moments that empowers people to make difference choices. And the more people get on board the zero waste train, the easier it will be to push for governments and industries to adopt much needed zero waste policies and regulations (such as the recent ban in France on plastic bags, cutlery, takeout containers and cups).
Looking for ways to educate others on the dangers of single-use plastics?
Use our Water Docs Where-You-Live program to host your own community screening of BIRTHPLACE, a film that tells the symbolic story of a man arriving on a perfect earth, who encounters his nemesis in the form of ocean trash. This can be screened alongside THE MAKING OF BIRTHPLACE, which takes viewers on the journey behind the scenes of the making of BIRTHPLACE and shares the filmmakers' passion for getting this story out to the world and the urgency behind its compelling message.
These two films are a hauntingly beautiful meditation on our relationship to water and our responsibility to do more to curb our unhealthy reliance on single-use plastic.
Water Docs Where-You-Live brings people together, sparks conversations and inspires people to take #ActionForWater. You select a film(s) and we help you organize your event. Get involved!
What are you doing to take #ActionForWater? Let us know!
This is a guest blog from @itsahashtaglife – blogger, social media manager and content creator for non-profits and charities in Toronto. She takes the tools and techniques of traditional digital media marketing and applies them to organizations working hard to shift our world into a new story – one that is more sustainable and supportive of people and the planet.